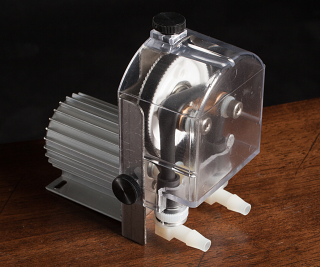 RF-100
The RF-100 is an economical, versatile, and low-maintenance peristaltic pump. It offers self-priming capability and uses a Norprene tube for outstanding resistance to extreme temperatures and abrasive chemicals. It is powered by a DC motor.

Inlet Requirements
Self-priming
Fluid Types
Mobile or Viscous; Abrasive or Non-abrasive
Dry Run Capability
yes
Submersible?
no
Maximum Pressure
15 PSIG
Maximum Flow Rate
1000 ml per min
Fluid Temperatures Supported
Ranges from -75 to 275 degrees F
Mounting Requirements
Horizontal orientation, 4 holes are available for mounting. Dimensions available in <a href="/files/parts/rf-100-mount-dimensions.pdf" target="_blank">PDF format</a>
Primary Power Source
12V or 24V Brush DC motor
Alternate Power Source

Two AC to DC converters are available.

Single Speed Power Pack 1 (generates 9V DC)
Variable Speed Power Pack 2 (generates 3, 4.5, 6, 7.5, 9 or 12V DC)

Both are listed in the section below titled Additional Parts for Purchase

Variable Flow Rate?
Enabled with the Variable Speed Power Pack 2
Dimensions (in inches)
3 1/4" W x 4 1/4" D x 4 3/4" H
Weight
1 lb.
Inlet/Outlet Fitting Diameter
Available in 3⁄16 to 1⁄4 inch MHB (male hose barb)
Other Features

Uses a unique roller design and a custom stretched tube.
Available in 4 tube sizes (see chart below)
Dual roller combination provides consistent flow capacity with a minimum amount of set in the tubing.
Provides a uniform flow over the life of the pump.
Chemical guard and tube rolling mechanism are easily inspected and can be changed quickly.