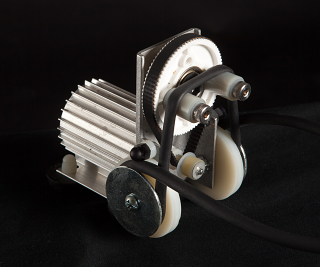 Model 150
The Model 150 is perfect for applications that require the periodic cleaning or replacement of the pumping cavity, as it uses and easy-to-change squeeze tube that can be replaced in seconds.

Inlet Requirements
Self-priming
Fluid Types
Mobile or Viscous; Abrasive or Non-abrasive
Dry Run Capability
yes
Submersible?
no
Maximum Pressure
10 PSIG
Minimum Flow Rate
19 ml per min
Maximum Flow Rate
420 ml per min
Fluid Temperatures Supported
Ranges from -75 to 275 degrees F
Mounting Requirements
Horizontal or vertical orientation
Primary Power Source
12V or 24V Brush DC Motor
Alternate Power Source

Two AC to DC converters are available.

Single Speed Power Pack 1 (generates 9V DC)
Variable Speed Power Pack 2 (generates 3, 4.5, 6, 7.5, 9 or 12V DC)

Both are listed in the section below titled Additional Parts for Purchase

Variable Flow Rate?
Enabled with the Variable Speed Power Pack 2
Dimensions (in inches)
3" W x 4" D x 4" H
Weight
14 oz.
Inlet/Outlet Fitting Diameter
1⁄16 inch to 3⁄16 inch inner diameter
Other Features

Removal/installation takes seconds, as it only requires a few twists of the pumping tube onto 2 "take up cleats."
Includes a standard 3' long Norprene tube; optional silicone tube is available (for medical applications).
Ball bearing construction of the pulley and kneading rollers allow the motor to operate at very low current draw.
Reversible DC motor includes an extruded ribbed heat sink.