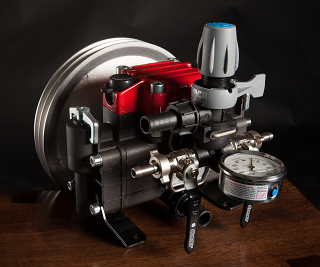 MP-20
The MP-20 is designed for rugged industrial applications and will meet or exceed the performance of any diaphragm or piston pump on the market.

Inlet Requirements
Self-priming
Fluid Types
Mobile or Viscous; Abrasive or Non-abrasive
Dry Run Capability
yes
Submersible?
no
Maximum Pressure
600 PSIG
Maximum Flow Rate
6 gallons per min
Fluid Temperatures Supported
Maximum of 160 degrees F
Mounting Requirements
Horizontal orientation
Power Source
Optional 115V or 230V AC Motor
Variable Flow Rate?
No
Dimensions (in inches)
MP-20: 11" W x 11" D x 14" H; MP-20 OC: 30" W x 12" D x 17" H
Weight
MP-20: 23 lbs.; MP-20 OC: 98 lbs.
Inlet/Outlet Fitting Diameter
Inlet: 3⁄4" ID; Outlet: 3⁄8" ID w/2 "on-off" valves; Bypass: 1⁄2" ID
Other Features

Dual diaphragms can handle pressure up to 600 PSIG.
Durable construction provides reliability and durability.
Self-priming to 15 feet dry suction lift.
Available w/either 300 or 600 PSI gauge
Available in two versions.

MP-20 pump only
MP-20 OC pump motor on channel, which includes the MP-20 pump with either a 115V or 230V AC motor

MP-20 OC is available in open, TEFC, and explosion-proof motor enclosures.

Greylor carries all parts for the MP-20/MP-20 OC and provides fast and reliable maintenance and repairs.