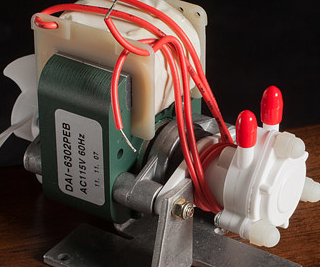 PQM-115/230
The PQM-1 gear pump is compact, economical, versatile, chemically resistant, and performs impressively compared to larger, more expensive gear pumps. It is powered by an open type AC motor.

Inlet Requirements
Flooded inlet
Fluid Types
Mobile and/or Non-abrasive
Dry Run Capability
no
Submersible?
no
Maximum Pressure
20 PSIG
Maximum Flow Rate
1550 ml per min
Fluid Temperatures Supported
Maximum of 180 degrees F
Mounting Requirements
Horizontal orientation
Power Source
115V or 230V AC motor
Variable Flow Rate?
No
Dimensions (in inches)
3 1/4" W x 5" D x 3 3/4" H
Weight
2 1⁄4 lbs
Inlet/Outlet Fitting Diameter
3⁄16 inch MHB (male hose barb)
Other Features

Materials that come into contact with the pumped liquid are

Molded Delrin pump body
Delrin gears
Stainless steel motor shaft
Teflon diaphragm
Elastomer lip seal

Elastomer lip seals come in Buna-N, AFLAS, EPDM, and Viton.

Gears available in HDPE for corrosive chemicals.